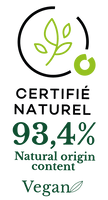 Rose Trocadéro
Eau de Parfum
Free Shipping
Description
Notes
Ingrédients
OLFACTIVE FAMILY: FLORAL

Rose Trocadero is a floral Eau de Parfum with sweet notes of rose petals, blackcurrant buds and white musk. A fragrance inspired by nature reminiscent of the fragrant roses of yesteryear, the gardens of our childhood. A fragrance full of emotions, memories and delicacy. A creation full of the nostalgia of Yuri, the founder of our House, for the most beautiful French perfumes of the 1920s.
Refillable bottle, also available in one of our textile pouches.

Rose Trocadéro, created by Yuri Gutsatz in 1976, was then named Rose Thé.

INSPIRATION
The sun is shining on the Trocadéro Garden - it is a blessing in Paris, even at the end of May. Behind you, the Eiffel Tower, before you, the Trocadéro Palace, looking so modern. Suddenly, a woman approaches. She is carrying a huge bouquet of roses and heads towards the Seine with firm strides. When she brushes against you, you shiver with pleasure under the waves of rose so absolute that you but barely notice the trail of blackcurrant bud, lavender and musk.
Inspiration: Trocadéro Garden, Paris, France
Top Notes
essence rose, blackcurrant, rose green
Middle Notes
absolute rose, geranium, clove
Base Notes
Musk, honey
Organic Alcohol
No Dyes
No UV Filters
No Preservatives
Main Natural Ingredients
Rose Absolute, Rose Essence, Blackcurrant Bud Absolute, Geranium Essence, Clove Essence, Lavender Absolute
Main Synthetic Ingredients
Phenyl Acetate, Phenyl Ethyl, Rose Oxide
Composition
ALCOOL DENAT (ALCOHOL). AQUA (WATER). PARFUM (FRAGRANCE). CITRONELLOL.GERANIOL.LINALOOL.EUGENOL.CITRAL.BENZYL ALCOHOL.COUMARIN.FARNESOL
Your choice for a product in a pouch: environmentally responsible packaging 
We offer you the possibility to choose between a classic cardboard box or a durable textile pouch. We use up-cycled textile bags from the fabric collection of our founder Arlette Gutsatz. They are made in Paris by a workshop that allows the integration of disabled people.
YOUR DIGITAL AUTHENTICATION: A GUARANTEE OF OWNERSHIP AND AUTHENTICITY ON THE BLOCKCHAIN
Each of our products has its own unique number, which guarantees its authenticity (no fraud possible!) and ownership (transferable for gift giving).
You will also see, in full transparency, the information on your perfumed product (origin of ingredients, perfume certificates, production, company etc.).

To access your certificate, scan the QR code of your purchased product. If you want to see what it looks like, check out for the 50ml our example on the right.

What is the blockchain?

All the information in this certificate is in the blockchain, a tamper-proof system.
We have chosen a public blockchain (accessible to all), which is low-powered (it only consumes green energy).
It is based on the technology of the French start-up SORGA, and we are proud to be the first perfumery house to have it.