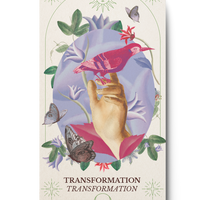 Major Questions
Do you need to "transform" something today?
Would you like to help someone transform or transform something?


Advice for you & advice you can give
Transformation is what lies beyond experience. The paradox is that transforming takes a lot of time, and then you notice it all of a sudden! Whether it is for material or psychological purposes, it is exactly the same. Think of all the ingredients that go into the composition of a fragrance or a dish, the time it takes for it to mature and get ready, and suddenly there you are before a beautiful perfume, or a delicious cake ! This could happen to you. Maybe you are only a few steps away? So, keep hopeful, and when it is there, remember to take advantage of this moment, and to thank yourself for what you have created, without forgetting those who have helped you to get there.


Predictive value
Something or someone might require some type of transformation from you, or you'll be asked to help someone about a problem related to transformation.


Introspective tips
Do you generally like transformations? What is your usual way of transformation?
Do you allow yourself to experiment until you transform? And when you do, what happens? How do you feel? What does it bring you? In this situation, what  benefits will it bring, short-term and long-term?


Mindfulness tips
Today, pay attention to what type of transformation is required from you, and in which areas it manifests itself. There are light areas and deeper concerns. Notice the difference. 


What is this card linked to?

Originally, the design of the card comes from the properties of our perfume Oriental Sans Souci, a complex fragrance based on many ingredients, with a touch of vanilla. To me, this perfume evokes Transformation by its slightly lemony start, its harmonious facets and its link to the perfumes of yesteryear.


Astrology link
Saturn
Uranus


What candle and Scented Stem diffuser fragrances do I suggest with it?
Osmanthe Liu Yuan will bring joy and energy and Sandalwood Sacré will stabilize you.


What happens when you draw a card?
It means you need to receive this energy, or you need to give it to someone close to you, or both. In any case, this moment in time requires you to explore this specific energy.
You're always one decision away from a totally different life.
"You and I possess within ourselves at every moment of our lives, under all circumstances, the power to transform the quality of our lives."
"Transformation is an ongoing process that tends to appear ordinary, when, in fact, something extraordinary is taking place."
What candle and Scented Stem diffuser fragrances do I suggest with it?