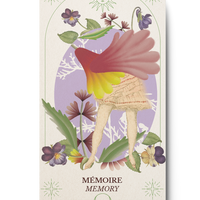 Do you need to find a way of memorizing something? Is a souvenir troubling you? Is there some hidden memory you need to uncover?
Does somebody need you to help them with memory?
Advice for you & advice you can give
Memory is a complex card. 
If you happen to need memorizing, there are many ways to do so. One is to always note down whatever it is you should keep in mind. Another way is repetition. But remember, you cannot really memorize anything if you don't incorporate some emotions in the process. Try having fun and using as many senses as you can. It does work!
Memory can also be difficult to handle if it makes you sad, or angry, or
prevents you from seeing the good side of life
. Often people revisit their past and some of the decisions they made, thinking that if they had not made that decision their life would be much better. But what if it were the opposite? What if another decision had led us to a much
worse life
? Think about it!
And don't forget to be kind to yourself!
Something or someone might require some type of memory from you, or you'll be asked to help someone remember. 
Are you generally speaking somebody who cannot let go of memories? Is it difficult for you to memorize situations and people? What usually happens when you let go of memories? How do you feel? What does it bring you? In this situation, what will it bring?
Today, pay attention to what type of memory is required from you, and in which areas it manifests itself. There are light areas and deeper concerns. Notice the difference.
What is this card linked to?
Originally, the design of the card comes from the proprieties of our
perfume Cuir de Russie
, a floral leather, a soft based fragrance, with a delicate leather twist. To me, this perfume evokes Memory by its violet top note, its emotional, deep leathery facet and its profound link to the past. 
What candle and Scented Stem diffuser fragrances do I suggest with it?
Cuir de Russie
will help you be emotionally balanced, and
Rose Trocadéro
will soothe you.
What happens when you draw a card?
It means you need to receive this energy, or you need to give it to someone close to you, or both. In any case, this moment in time requires you to explore this specific energy.
"One day at a time - this is enough. Do not look back and grieve over the past, for it is gone; and do not be troubled about the future, for it has not yet come. Live in the present and make it so beautiful that it will be worth remembering."
"Memory is the diary that we all carry about with us."
"A memory is a beautiful thing, it's almost a desire that you miss."
What candle and Scented Stem diffuser fragrances do I suggest with it?